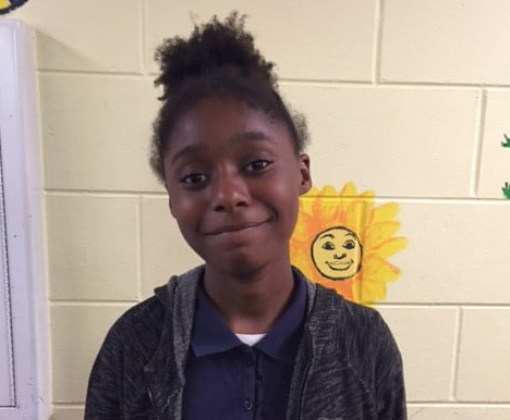 Kaliy is a fifth grader who attends Mathews Promise Academy, an after-school program of Open Door Community House funded by United Way of the Chattahoochee Valley.
Kaliy participates in Youth in Unison, a music program for students of Mathews Promise Academy. According to Kaliy's mother, Kaliy enjoys learning to play the clarinet.
"Seeing the joy on her face as she talks about playing her clarinet is priceless." –  Kaliy's mother
Mathews Promise Academy benefits both Kaliy and her mother. For Kaliy, the after-school program provides a structured environment where she receives help on homework and learns to play the clarinet. Since the program receives school supplies from United Way's Stuff the Bus initiative, she receives new school supplies each year.
Knowing that her daughter is in a safe and well-supervised environment gives Kaliy's mother peace of mind, and the affordability of the program eases her financial burden.
When Kaliy was asked what progress she has noticed within herself while attending the Mathews Promise Academy, she proudly stated, "My grades and music. My grade in math went from 74 to 94 and my social studies grade went from 79 to 100. I achieved this because I received help from the staff with my school work, them showing me an easier way to break down my math, and I've learned how to play a new instrument! I went from learning how to play a recorder at school to a clarinet at Open Door Community House."
Kaliy's mother attends Circles in Columbus, another United Way funded program of Open Door Community House, to work toward gaining financial independence and stability. "Circles in Columbus helps me learn how to budget, gain employment and rebuild my credit." – Kaliy's mother
United Way of the Chattahoochee Valley knows what it means to collaborate. We partner with local agencies, companies, organizations and schools so that we can make the greatest impact. Change Doesn't Happen Alone. #UWCHANGE