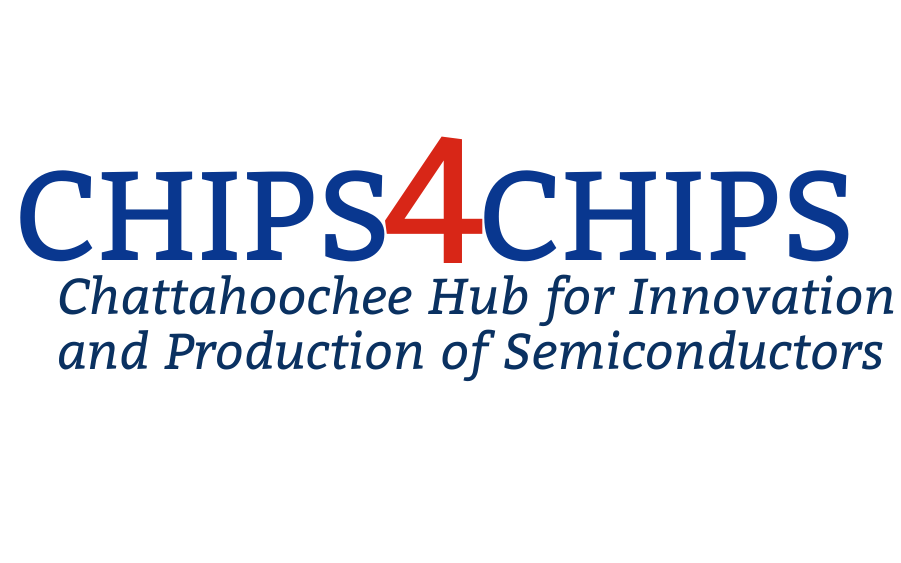 Chattahoochee Hub for Innovation and Production of Semiconductors
Building the southeast semiconductor industry
Who We Are
The Chattahoochee Hub for Innovation and Production of Semiconductors (CHIPS4CHIPS or C4C) is a cross-sector and bi-state coalition of individuals and organizations in the Columbus, Georgia region.
C4C's vision is for Columbus to become the southeast leader in the growth of U.S. semiconductor manufacturing. 
C4C has mobilized public and private leaders in Georgia and Alabama to support the growth of the domestic semiconductor industry. This includes more than 25 top-tier research universities, regional universities, historically Black colleges and universities, community colleges, and technical colleges to fill the workforce pipeline needed to support chip fabrication and advanced packaging, among other aspects of the semiconductor value chain.
WHY LOCATE IN COLUMBUS
Located just 90 miles southwest of Hartsfield-Jackson Atlanta International airport, Columbus is Georgia's second largest city and a thriving metro of 300,000 residents.
The Columbus region enjoys abundant water and natural resources, and an economy fueled by a bi-state workforce and employers that include the country's fifth largest military base, manufacturers such as Kia and Pratt & Whitney, and the headquarters of Aflac, TSYS (a Global Payments company), Synovus Financial Corp., and the W.C. Bradley Co.
Columbus has several unique advantages that in combination, no other U.S. location can offer.
significant veteran population
A significant veteran population results in strong alignment between the semiconductor industry's in-demand technical skills and those prevalent in the Columbus workforce.
top electrical engineering institutions
Georgia Tech is a leader in semiconductor-related education and sponsored research, while the Alabama Micro/Nano Science and Technology Center at Auburn University is the premier micro/nano fabrication center in the state.
nation's #1 business climate
Columbus sits in a powerhouse of a state offering advantages that lead numerous experts to rank Georgia as the nation's #1 business climate. Georgia is among the most competitive U.S. states for manufacturing when considering operating costs, market access and the labor market.
supply chain flexibility & easy accessibility
Hartsfield-Jackson Atlanta International Airport is the world's busiest airport and among the most efficient. The Port of Savannah is the nation's third busiest containerized gateway, moving 22% of the East Coast's containerized cargo.
LEARN MORE
Our team is mobilized and prepared to work quickly to deliver a compelling solution to companies seeking new locations.