Who We Are
One Community, United for Change
MISSION
The United Way of Chattahoochee Valley aims to advance equity and achieve child, family, and community well-being.
OUR STORY
For over 70 years, we've helped fund local agencies that better people's lives in our community. Thanks to our donors, volunteers, board members, and staff, we've grown into the trusted organization we are today, building opportunities for the Chattahoochee Valley's current and future residents.
Our Focus Areas
Building Opportunity,
Bridging Inequality
Our work focuses on three pillars that form the foundation of a good life.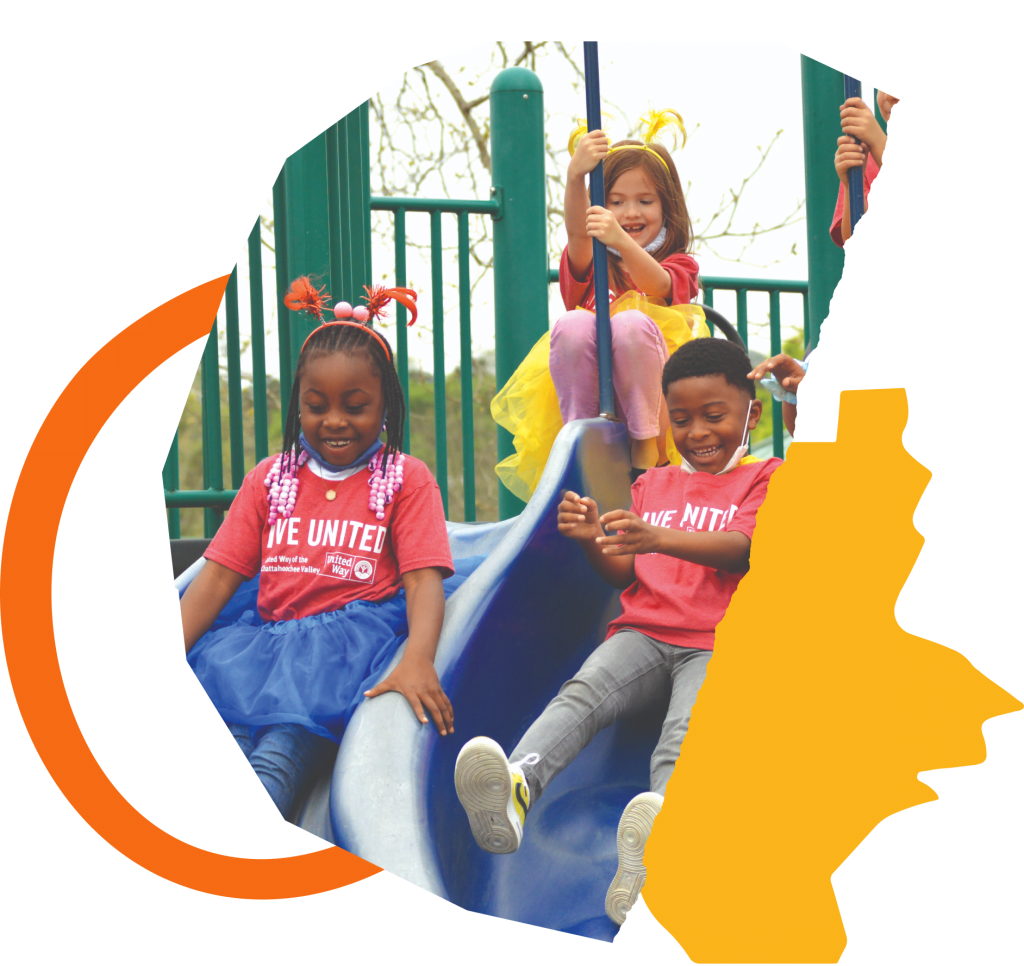 economic mobility
All people in our community have the ability and opportunity to improve their financial status and move out of poverty.  

educational equity
All children have a great start in life, are supported in school and community, read on grade level, and graduate high school on time.
Core Values
We envision a collaborative, resilient region where every person can thrive.
Respect
We appreciate the time, talent, treasure, and experience of our community.
Leadership
We inspire community action to create positive change.
Innovation
We adapt to the changing needs of our community.
Equity
We believe in the inherent dignity of every person.
Collaboration
We build relationships to achieve our mission and vision.
Our Community Partners
With the help of these generous organizations and companies, the United Way builds opportunities for everyone in the Chattahoochee Valley.
Board of directors
These community leaders help guide our organization and find the best ways to create positive change.
Ms. Terry Bargy
WC Bradley Company
---
Mr. Mike Burns
Fort Benning
---
Ms. Catherine Budzynski
Aflac Global Ventures
---
Mr. Craig Burgess, J.D.
Columbus State University
---
Mr. Randy Burt
Publix Supermarkets
---
Dr. Brenda Coley
Russell County School District
---
Mr. Sebastian Dixon
Alabama Power
---
Mr. Isaiah Hugley
Columbus Consolidated Government
---
Mr. Rodney Mahone
Chronicle of Philanthropy
---
Mr. David Mitchell
Columbus State University
---
Mr. Rinkesh Patel
President, RAM Hotel Management
---
Mr. Keith Pierce
TSYS Issuer Solutions
---
Mr. Robbie Raybon
Head of Acquisitions, Covey Equity
---
Mr. Teddy Reese
The Reese Firm, LLC
---
Dr. Andy Roddenbery
Columbus Surgical Specialists, LLC
---
Dr. Dionne Rosser-Mims
Troy State University
---
Ms. GwenDolyn Ruff, SPHR
Columbus Water Works
---
Rabbi Beth Schwartz
Temple Israel
---
Ms. Jackie Screws
Chattahoochee Valley Community College
---
Mr. Len Sexton
Synovus Securities, Inc.
---
Chief Raymond Smith
Chief of Police
Phenix City, AL
---
Ms. D. Melody Trimble
St. Francis-Emory Healthcare
---
Mr. W. Clark Turner
W.C. Turner Investments
---
Mr. Jack Turner
Gwaltney Ventures/TigerJack LLC
---
Ms. Erica Walker
Community Foundation of the Chattahoochee Valley
---
Ms. Randi Warren
Senior Associate Counsel, AFLAC
---
Careers
We are a talented and diverse team seeking solutions to some of life's most profound problems. It's a big task, but the reward is even bigger: a better community for everyone.