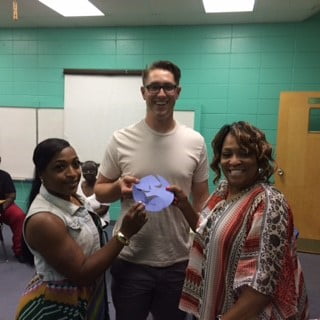 Fleeing an abusive relationship, Janae and her three daughters relocated to Columbus, Georgia.
Janae left behind her home, her business, and all she had worked hard for. She found safety in Georgia but lost had her financial security. She attempted to rebuild her life, but struggled without the support of friends and relatives that she had prior to relocating. Life took a turn for the better when she was introduced to United Way funded program at Open Door Community House that helps end the cycle of poverty.
The mission to end poverty attracted Janae to this program, but the advocacy and support that she received from the program kept her involved. She began an 18-week training offered by the program to help her create a plan for economic stability. She immediately began to notice positive changes by applying the information learned during training to her everyday life. During training, she learned about herself and the realities of community conditions that impacted her life. She used this information to deal with change, develop resources, and create a plan for success.
Several months later, Janae was partnered with two mentors. With the support of her mentors, she secured stable housing, which she says she would have been unable to find on her own. She maintains employment and continues to make positive progress towards repairing her credit by working collaboratively with the program.
Janae thanks the program's community for the support and enrichment that she continues to receive. She pays it forward by taking advantage of every opportunity to share her story. She hopes that her story will lead others to this program so they too can bring their life full circle!
Help People Like Janae By Giving To United Way.