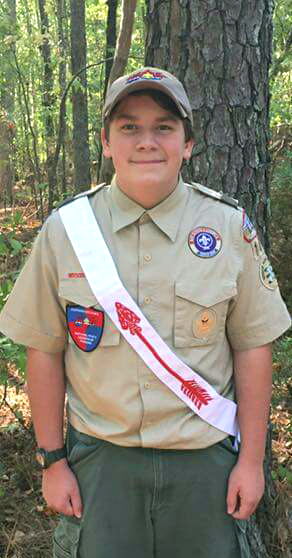 Nathan walked into Boy Scout Troop 107 as a shy, timid young man. Today, his family is watching him grow into a leader, future business owner, and active outstanding citizen.
Nathan is 13 years old and has Asperger's, severe Dyslexia, and Dyscalculia. He needs assistance verbally, and with transcription and reading. Before Nathan joined Boy Scouts, his mother worried about his future, and wondered what Nathan would do when his family could no longer help him. She wanted Nathan to be able to help himself.
Nathan becomes a Boy Scout
Seeing the need for Nathan to communicate with peers his age, his family looked for activities that he would enjoy. At this time they met a man named Woody, who invited Nathan to a meeting with Boy Scout Troop 107. Nathan went to the meeting and felt welcomed immediately. He now rarely misses a meeting or camping events. As a result of his active participation and attendance, Nathan has moved up the ranks to Life Scout and was elected by his peers as the troop's Senior Patrol Leader.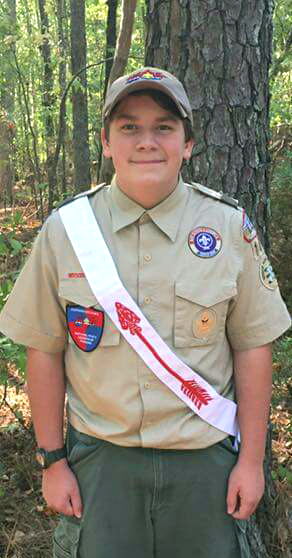 Boy Scouts has taught Nathan life skills, peer bonding, and peer and leadership communication. Show And Sells, a fundraiser to attend the Boy Scout summer camp, has allowed Nathan to speak to people in his community he normally would not speak to. Scouting has allowed Nathan to help the community in ways his family would not have thought of.
The Chattahoochee Council of Boy Scouts currently serves 4,917 youth, which is an 11.4% increase since 2015. Youth who participate in scouting for 5+ years graduate high school at a rate of 93%. Boy Scouts in Muscogee County outperform non-Boy Scouts in the English and Language Arts, Math, Science, and Social Studies sections of the Georgia Milestones Test.
United Way donors fund programs for local agencies that help people like Nathan.
GIVE NOW.
Every1Counts!