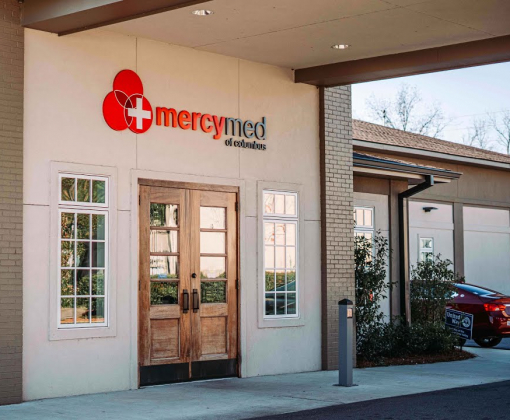 We know that people are complex and deserve access to quality care. United Way is committed to supporting services and strategies encompassing physical health needs and social-emotional well-being, because it is essential that we consider the entire individual to address the physical and mental health of our community members.
MercyMed serves as the primary care provider for more than 10,000 patients in the Chattahoochee Valley. Their providers aim to provide care for the whole person: Physically, emotionally, and spiritually. This is Greg's* story.
Greg has been a primary care patient at MercyMed for years. After being diagnosed with cancer, diabetes, and kidney failure, he could not work and was struggling to juggle numerous healthcare appointments each week. Never one to ask for help, Greg kept his head down and tried to figure it out himself.
MercyMed learned of Greg's immense needs from his neighbor. Chaplain of Patient Support, David, began communicating with Greg regularly, and at their first meeting, David realized Greg desperately needed food assistance. MercyMed coordinated groceries from the Columbus Baptist Association, helped Greg apply for food stamps, and set up meal delivery through St. Luke's Meals on Wheels.
In collaboration with MercyMed's primary care team, referral specialists, and prescription assistance program, David continued to identify resources that could help improve Greg's health and quality of life, including coordinating free diabetes medication, diabetic shoes, insulin, glucose test strips, and signing up for Medicaid; scheduling appointments to receive chemotherapy, dialysis, and foot care; and establishing a home health nurse to help Greg take care of his diabetes-related wounds.
Stories like Greg's are not uncommon. Many of our community members have experienced a lifetime of struggles that negatively impact their health and limit their access to life-saving healthcare. Support provided by United Way of the Chattahoochee Valley is so important for patients like Greg and thousands of others whose lives are forever changed because of the primary care provided by MercyMed.
By advocating for comprehensive care from all community members, everyone involved can come together with a shared goal of providing compassionate, equitable care. Together we can strive to create improved strategies to meet the unique needs of our neighbors.  
Learn more about how we are addressing Health Access at unitedcv.org/healthaccess.
*Names in this story have been changed to protect patients' privacy.